Research
Visual Odometry
Stereo visual odometry with accurate frame selection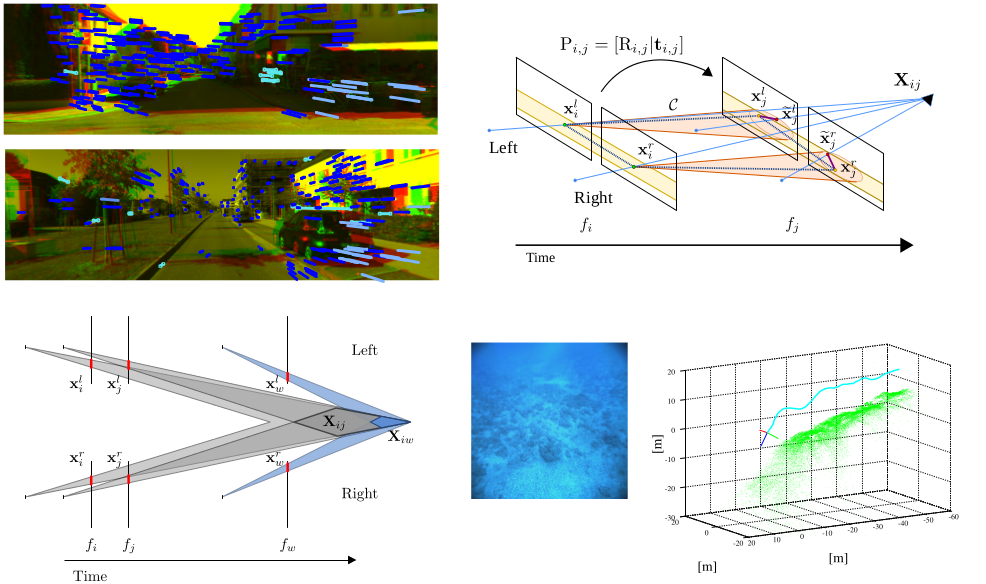 SSLAM (Selective SLAM) is a novel stereo visual odometry (VO) framework based on SfM, where a robust keypoint tracking and matching is combined with an effective keyframe selection strategy. The main aspect characterizing SSLAM is the selection of the keyframes used as base references for computing the camera trajectory. Keyframes are selected only if a strong temporal feature disparity is detected. This idea arises from the observation that errors may propagate from the uncertainty of the 3D points, which is higher for distant points corresponding to low temporal disparity matches in the images. The proposed strategy can be more stable and effective with respect to using a threshold on the average temporal disparity or a constant keyframe interleaving. Additionally, a robust loop chain matching scheme is adopted, improving upon VISO2-S by using a more robust detector-descriptor pair, to find correspondences also in images with high spatial and/or temporal disparity as the requested keyframes. The proposed solution is effective and robust even for very long path, and has been used as support to AUV navigation in real complex underwater environments.
SAMSLAM: Simulated Annealing Monocular SLAM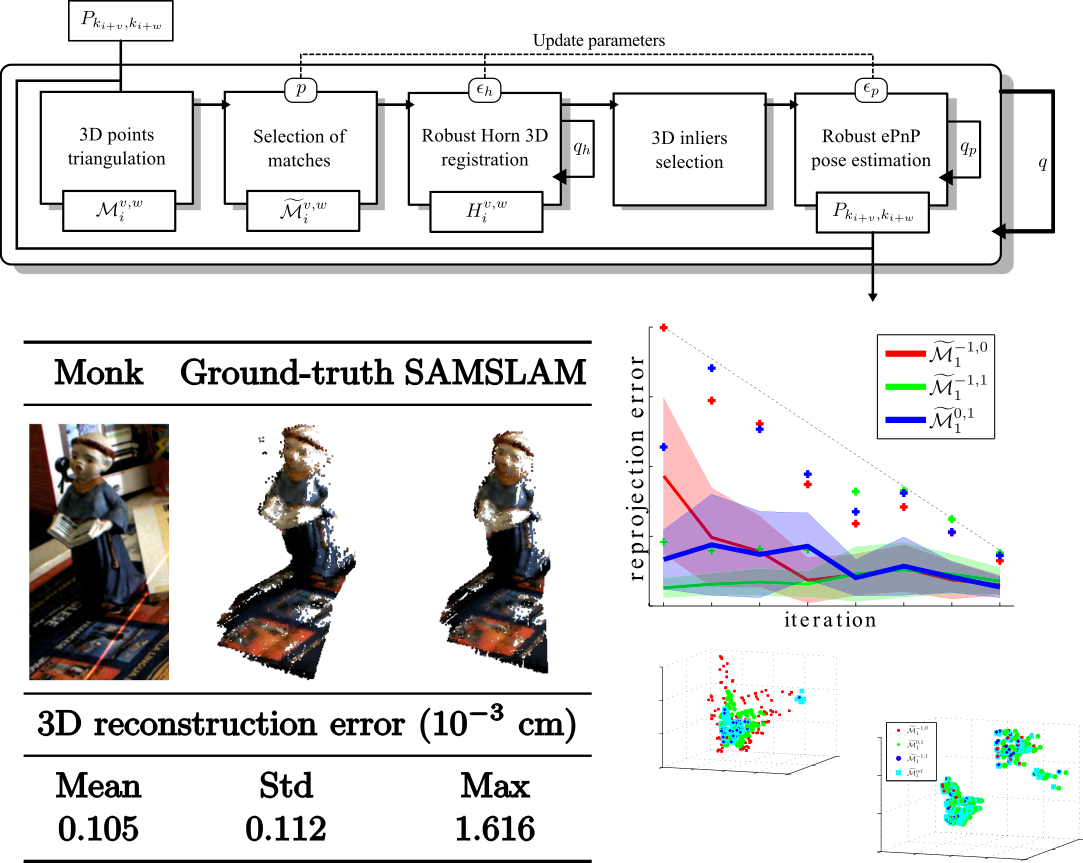 SAMSLAM (Simulated Annealing Monocular SLAM) replaces the classic global SfM optimized approach - for obtaning both the 3D map and the camera pose - by a robust simulated annealing scheme. It works locally on triplets of successive overlapping keyframes, thus guaranteeing scale and 3D structure consistency. Each update step uses RANSAC and alternates between the registration of the three 3D maps associated to each image pair in the triplet and the refinement of the corresponding poses, by progressively limiting the allowable reprojection error. SAMSLAM does not require neither global optimization nor loop closure. Moreover, it does not perform any back-correction of the poses and does not suffer of 3D map growth.
Image Stitching and Super-resolution
Image Keypoint Descriptors
Robust keypoint matching with the sGLOH-based descriptors
The sGLOH descriptor is able to handle discrete rotations of the keypoint patch by a simple permutation of its vector components. sGLOH can be used in combination with a global or a priori orientation estimation to filter keypoint correspondences, thus improving the matches. sGLOH2 extends the descriptor by concatenating two sGLOH descriptor for the same patch with a relative rotation offset, improving the original robustness and discriminability when in-the-middle rotations occour. Still, an adaptive, general, fast matching scheme can be used to significantly reducing both computation time and memory usage, while binarization based on comparisons inside each descriptor histogram yields the more compact, faster, yet robust, alternative BisGLOH2. sGLOH-based descriptors come with an exhaustive comparative experimental evaluation on both image matching and object recognition. According to this evaluation the proposed descriptors achieve state-of-the-art results.
Image Forensics
Principal point reliability for image tampering detection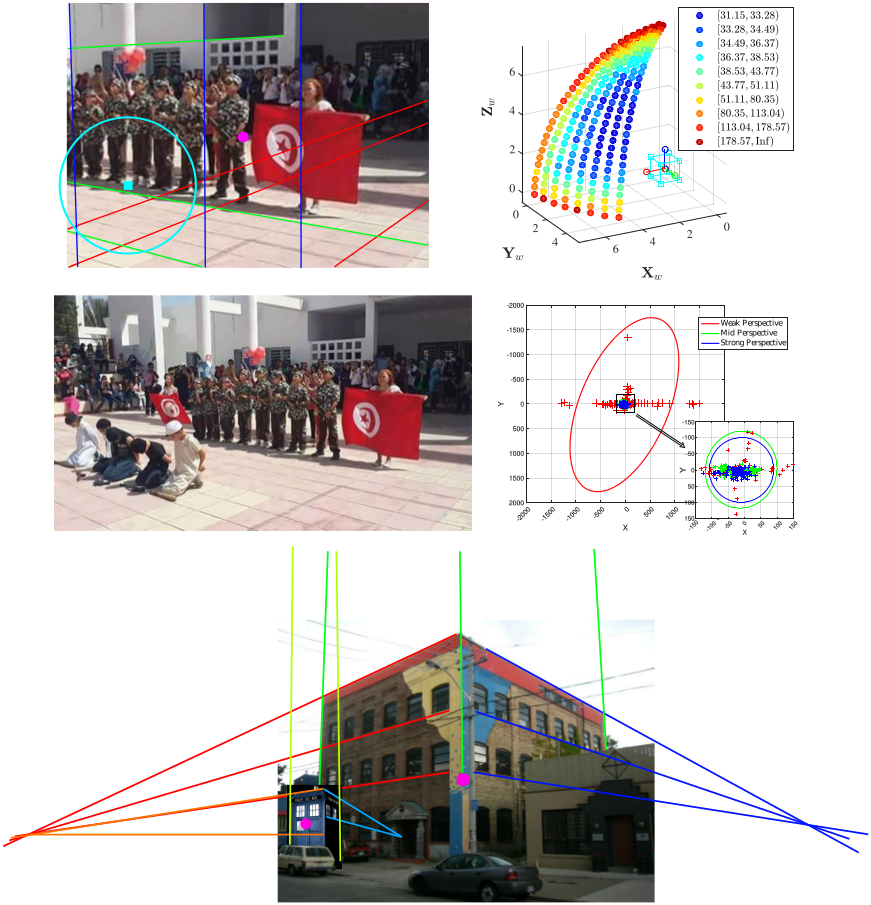 Principal Point (PP) estimation can be used in image forensic analysis to detect image manipulations such as asymmetric cropping or image splicing. The Minimum Vanishing Angle (MVA) is proposed as a reliability score of the estimated PP after an extensive evaluation under different experimental conditions. In this way, MVA provides a robust indicator on the accuracy provided the estimated PP. Moreover, MVA is also an effective and practical criterion for choosing the best lines that serve as input, since PP reliability does not depend on the number of lines used, but on amplitude of the obtained vanishing angles, codified by MVA.
M. Iuliani, M. Fanfani, C. Colombo and A. Piva, "Reliability Assessment of Principal Point Estimates for Forensic Applications", JVCI, 2016 |

PDF
Statistically accurate measurments from single image
Geometric methods of computer vision has been applied to extract accurate measurements from video frames in a sport justice case on an international bridge tournament. In particular, calibration parameters were extracted from the card table and sub-pixel edge detection of the cards were employed to obtain very accurate measurements.
Aids for Visually Impaired People
Obstacle detection on mobile phones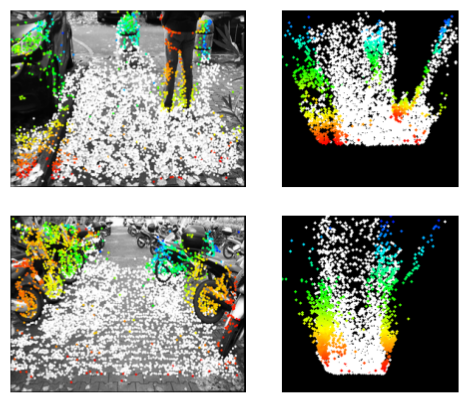 An effective obstacle detection application running on mobile phone was developed to help visually imparied people. The system uses a SfM approach, modified to use more reliable position information by exploiting the phone gyroscope data. A robust RANSAC-based approach is used on the estimated 3D structure to detect the principal plane and localize out-of-plane objects to be marked as obstacles.
BusAlarm: bus line number detection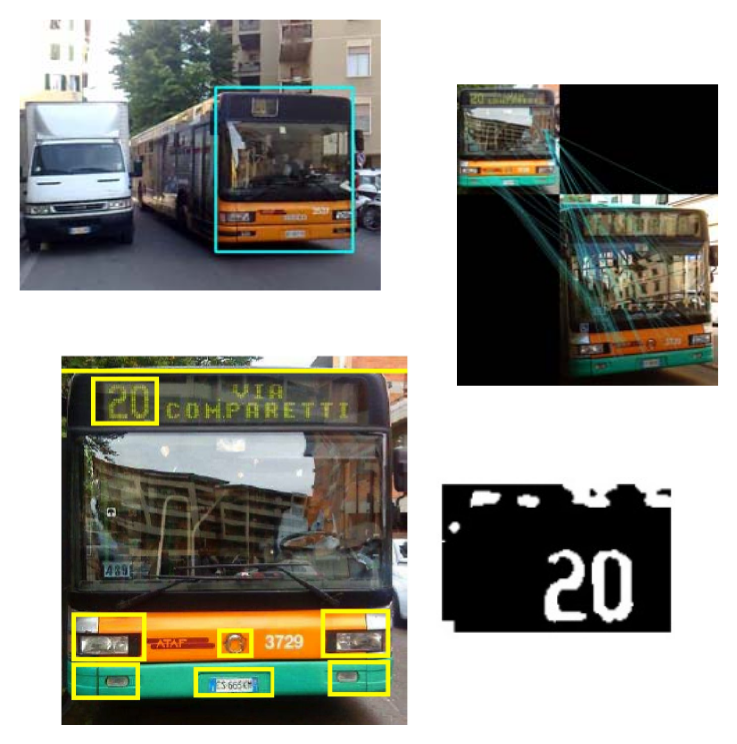 BusAlarm is a smartphone application that automatically reads the bus line number, assisting visually impaired people in taking public transport and improving their autonomy in daily activities. BusAlarm combines machine learning with geometric and template matching approaches and OCR techniques to correctly detect the incoming bus, find the line number location and output the final answer to the user.